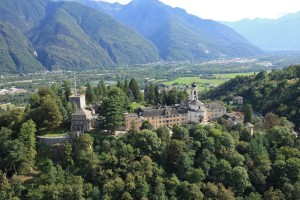 La Casa del Lago
Il sito, dichiarato dall'UNESCO Patrimonio dell'Umanità, è circondato da un contesto paesaggistico dominato da boschi, orti e giardini. Il Centro, realizzato dall'Ente di Gestione dei Sacri Monti, è dotato di ampi spazi con allestimenti scientifici, informatici ed un forno a legna, consente quindi l'approfondimento di tematiche legate alla natura, alle tradizioni e alla cultura del territorio. Presso la Riserva Naturale del Sacro Monte Calvario la Cooperativa promuove visite guidate ed escursioni e si occupa della manutenzione dell'Orto Botanico Agrario. Quest'ultimo oggi è costituito da una sezione dedicata alle piante officinali con specie la cui presenza è stata documentata storicamente nei giardini dell'Ossola e un'altra parte progettata per ospitare piante cerealicole, foraggiere e orticole tipiche delle varie fasi storiche dell'agricoltura locale.
Sito realizzato da Marco Tessaro
Parco Val Grande
• Valgrande
• Escursioni
• Trekking
• Educazione ambientale
• Cesteria
• Wilderness
• Fauna
• Piemonte
• Ambiente
• Escursionismo
Valgrande Cooperative – Environmental Works, Studies and Services
Environmental services: hikes, treks, environmental education, scientific research, environmental
restoration in Val Grande National Park and Verbano Cucio Ossola province.
• Val Grande National Park
• Valgrande
• Hikes
• Treks
• Trekking
• Environmental education
• Basket weaving
• Wilderness
• Hiking
• Environment
• Wildlife
• Piedmont